Simply Gym
Various Locations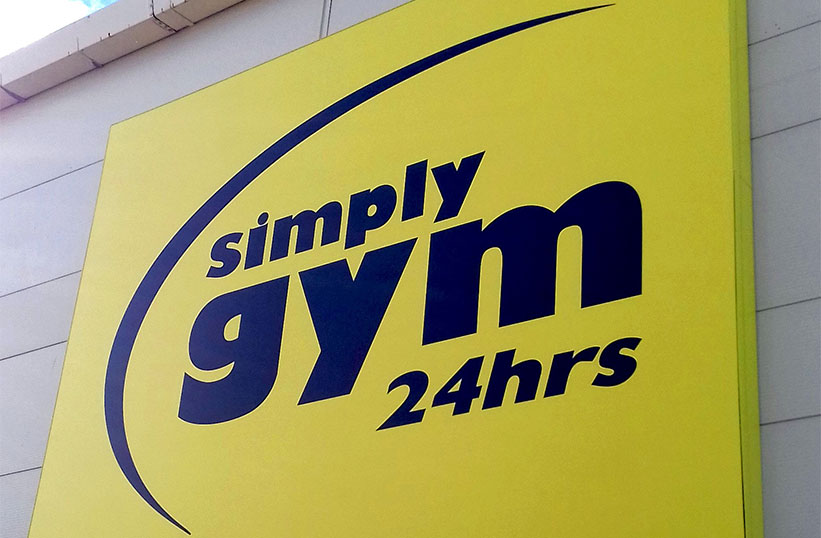 With the continued popularity of the usage of gyms by people seeking to improve health and fitness, Simply Gym began a process of expansion to provide a no fuss, no frills service in large premises based primarily on business parks.
These large sites have a wide ranging and impressive amount of equipment for use by members at prices most can afford.
Sign Specialists became involved after having noted a couple of new sites in Coventry and Walsall in development and made initial contact to see if we could be of service.
As a consequence of this initial contact, site visits and surveys were arranged and recommendations put forward by us with regard to maximising the visibility of the brand and providing a consistent and recognisable brand standard that could be applied across all development sites.
Illuminated and non-illuminated flex boxes were the primary signage specification and each site, where necessary, had secondary bespoke signage. Flex boxes provide a simple but effective solution to large sign specifications due to their durability – the frame has a stretched PVC skin spanning it which means no joins or interruptions to graphics and is easier to install with reduced weight issues. Flexes are offered in a variety of depths dependent on whether they are illuminated or not and are used primarily on retail and business parks where they are required to make instant high impact.
Other requirements for the gyms included contravision window vinyls (a printed graphic to the face but you can see out from the inside) and solid vinyl to cover windows which are located in sensitive  areas ie changing rooms and foyers.
Above door and wall vinyl wayfinding and acrylic logos and text on locators to large areas of wall were necessary to improve the member journey and direct them to where they want to go – all simple but effective.
For a 3rd site we delivered – Swindon – due to the building being in the sun for much of the day and it being highly glazed, we shrouded the externals in acres of solar film to deflect the sun and prevent absorption of heat. This allows members to work out in relative comfort and from an ecological perspective ensure that air conditioning is not over worked and the carbon footprint is reduced.
These projects are interesting to work and it has been a pleasure working within such an engaged, vibrant and organised Simply Gym team.