Samuel Jones – Smoke & Ale House
Quayside Development, Exeter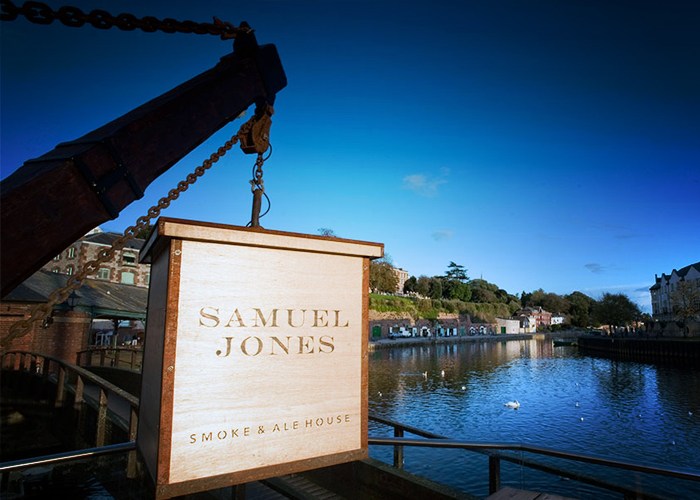 As part of their development, Sign Specialists Ltd were contracted to design, manufacture and install their new signage. Their brief required us to maintain a look and feel that resembled how the building would have looked in its Heyday, yet with a 21st century touch of style.
On this particular project a variety of options were needed, ranging from frosted window graphics through to a wooden tea crate that would suspend from a crane above the nearby canal. Above the entrance a 5.4 metre wide Corten steel backdrop, specifically used to avoid rust contamination. Mounted to this, individually fret cut aluminium letters and above the fascia a down Iit LED illuminated light trough that would light the sign up at night.
Either side of the entrance we provided LED lit chalkboards on a Corten steel backdrop that could be used to detail historical information, daily menu specials or upcoming events. To the left of this, a bespoke frame was crafted and hand painted to the same steel effect used on the entrance signs.
Internally Iit, it would showcase the pub menu. The finishing touch applied to the entrance was a frosted vinyl graphic showcasing the Samuel Jones logo.
Either side of the building would suspend 2m high steel signs fixed at either end using custom made wall brackets. Within the brackets. we installed LEDs to light up the sign below. A third sign, similar to these would then be attached to the wall near a second entrance, along with a second bespoke menu frame.
The centre piece of the project was a 1m high wooden tea chest that would suspend from a pre-installed shipyard winch standing just under 2m tall. The tea chest itself was hand painted with the Samuel Jones logo to all sides and illuminated from above using LED lights hidden in the lid. For those who pass by, this feature is truly unique and complements the rest of the building's style.