Bristol University Hospital
City Centre, Bristol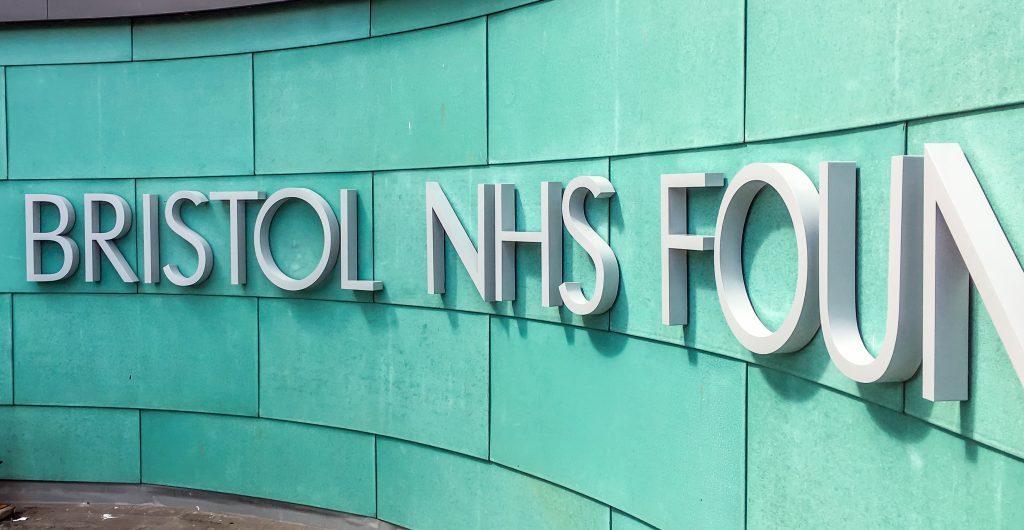 University Bristol Hospital is located right in the heart of the City centre. Whilst it is world renowned for the treatment of patients, it received less plaudits for its external facade which harked back to 1960's Brutalist architecture. Bristol's NHS Foundation Trust recently approved a £5 million re-vamp which modernised the building by over-cladding the existing structure, forming a new entrance to the building.
Sign Specialists Ltd were privileged to be nominated to supply the signage to regale the newly clad external elevation. This included high level signage (1,000mm high, 120mm returns, built up halo illuminated letters on spacers) to read 'BRISTOL ROYAL INFIRMARY' and low level signage (450mm high, 60mm returns, built up letters on spacers) to read 'UNIVERSITY HOSPITALS BRISTOL NHS FOUNDATION TRUST'
The challenge for both sets of letters were their location; positioned directly above the Main Entrance meant health & safety was paramount during all stages of the installation.
In order to minimise disruption, particularly for the high level signage, Sign Specialists engaged the services of abseil teams to work from the roof. Further challenges were the requirement to drill through the new cladding and the wall behind, which was over 500mm thick. Behind this was a myriad of pipework and services, making fixing points and electrical connections even more challenging than usual.
The lower sets of letters were positioned onto curved copper plated cladding. Meticulous planning ensured that they were installed right first time from mobile scaffold platforms, thereby avoiding the glass canopy below.
Over the course of a four day install, the letter sets were installed with minimum disruption, in time for the hospital's press launch to highlight the renovation work. The client was delighted with the end result and their new signage proved to be the cherry on the cake.