The Lawn Tennis Association
the Nature Valley Classic 2019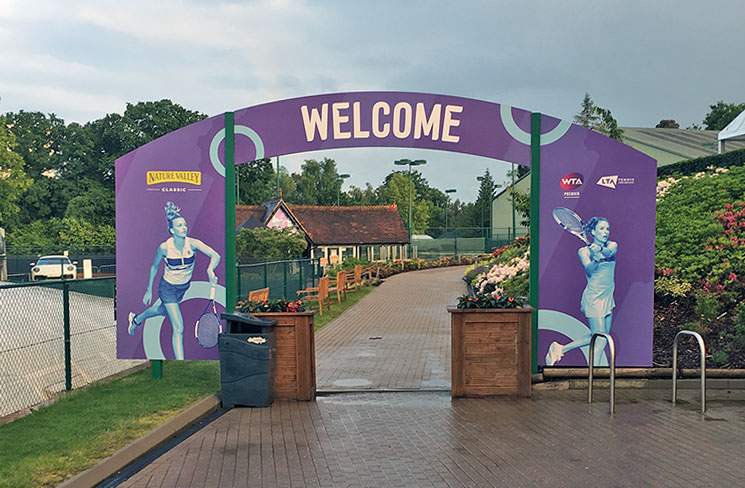 The Nature Valley Classic (previously Aegon Classic) is a WTA Premier level women's tennis tournament which attracts world-class players to compete in both singles and doubles. Previous champions include Billie Jean King, Maria Sharapova, Angelique Kerber and Petra Kvitova.
Since 2011, Sign Specialists have been supplying signage and graphics to this prestigious event.
Each year, a dedicated SSL project manager is allocated to act as main facilitator and conduit between the client and SSL to ensure consistency and accurate details are recorded and communicated at every stage of project delivery.
To support the PM, an installation manager – dedicated to installation resources and administrative support – is diverted from their usual responsibilities to react and respond according to requirement and ensure that the necessary resource is available immediately.
Initial meetings are held in the early spring where the previous years supply is reviewed and any potential changes made to enhance the visitor experience and maximise visibility and promote the sponsors.
The delivery process is intense with rapid turn-around required in production and installation. Information is forwarded from designers representing the client who provide the necessary detail of graphics and signage locations, estimated sizes and their locations in relation to the overall event months in advance.
When the re-development in each of the areas is complete, SSL are then tasked to carry out a rapid survey to ensure that any graphics or signage will fit with the information communicated back to production in order to adapt and manipulate the artwork to suit on site dimensions. Extra production capacity is provided at all stages to ensure and provide rapid responses at all times.
There are many graphic elements involved which include vinyl graphics, foamex panels, wayfinding, hoarding graphics and entrance graphics making the project relatively complex with a requirement for quick thinking and rapid production turnaround.