Lord Bhattacharyya monument sign
University of Warwick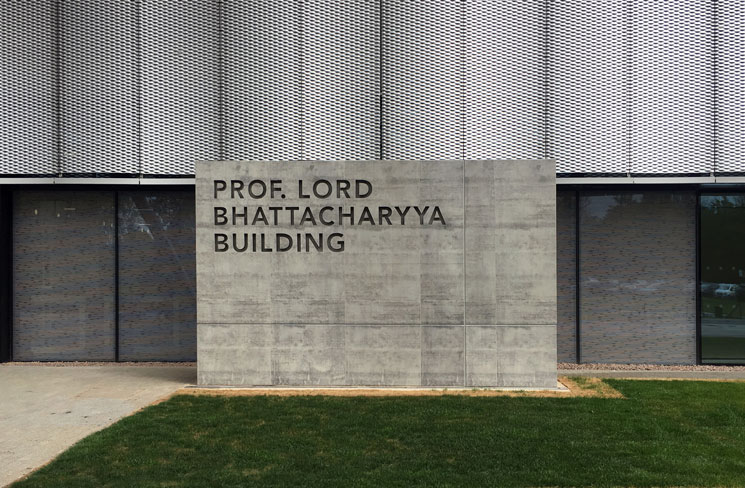 Towards the end of 2018, Sign Specialist were approached by design agency Studio Hagger to aid in the development of a solution for a new monument to be dedicated to Lord Bhattacharyya (a British-Indian engineer, educator and government advisor who in 1980, became Professor of Manufacturing Systems at the University of Warwick).
Installation was due at a location on the campus in early Spring 2019.
The main requirement – to supply a sign that looked like it was solid concrete but actually wasn't! Our designers leapt at the challenge and from initial client visuals developed the solution.
All departments within Sign Specialists got involved to determine and agree a design, methods of manufacture and how to achieve installation to make the process as efficient and issue free as possible.
After a great deal of research and checks on feasibility, a product (panels with a composite layer of concrete) was sourced that would be ideal for the task at hand.
An aluminium framework was designed and manufactured which would be clad in the concrete panels – the text was achieved by manufacturing inverted built up letters and then edged with the concrete to look as though they had been etched into the concrete itself.
The framework and cladding detail made for a relatively lightweight design that would make it easier to install and made the logistics a lot simpler. The monument was installed first time in one piece smoothly and with no issues.
The client was delighted with our involvement, the efficiency of the process and the finished product – all elements were ready in plenty of time for the grand reveal!
This project is a typical example of our ability to provide solutions to a challenge that at first glance might not be as simple and effective to develop but with some thought, consultation and investigation as well as team involvement ensures successful development in the end.